Last night I was trying to think up some ideas for some new paintings. Because we all know that I love cats, I automatically started sketching them while trying to come up with other ideas. Turns out I liked what I drew and maybe, just maybe, these mindless drawings are the start of a new series or two, involving cats, of course. Yes, yes, I will eventually get back to creating other critters and characters. Just hold tight.
The first of these two images I ended up drawing while watching The Assassination of Jesse James by the Coward Robert Ford. As you can see I was a little inspired by the period attire in the movie. It also kind of reminds me of the intro to Cheers. I don't know. Maybe that's just me.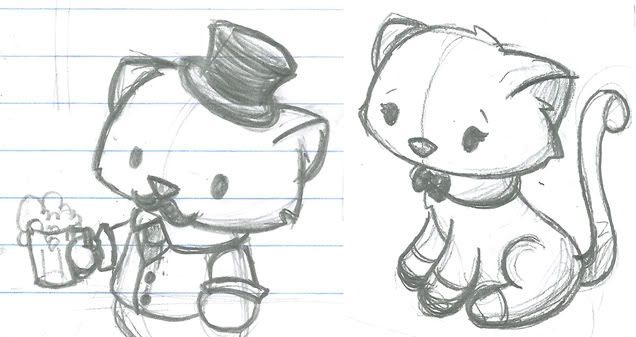 In the second drawing I was just playing around with different kinds of collars. She's wearing a peter pan collar with a little bow in the center . I've been digging those a lot lately. I do have a few that I wear on occasion.
The weather this week has been very warm, but today it cooled off a bit and it did rain. During one of the quick-to-pass showers, the "outdoor office cat" ventured into the office to escape the rain. She made herself right at home in an unused part of the office. Isn't she a doll!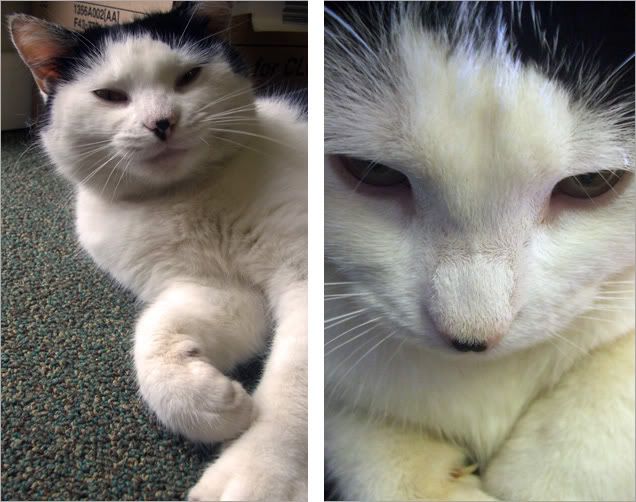 Happy Friday!