Thursday, October 13, 2011
Posted by

Geri Shields
at 6:16 PM
No comments:

i've been absent for a little bit, but that is to be expected for October. i did think it would be nice to check in and update you on the show opening of "Little Conversations." It was a great evening with a surprising crowd. There was a pretty steady flow of people coming through the gallery, which was exciting. Some sales were made, some conversations were had and some cupcakes were eaten. Actually, a great deal of cupcakes were eaten, and not all by me. All in all, a pretty good evening. Thanks to everyone that came out. I had a blast!
i didn't get that many pictures during the show. i was a little busy working the room and networking. Actually, that's entirely false. i was busy being the little introvert that i am and trying to blend in with the wall. It's terrible, i know. i did manage to get a couple of good shots of the crowd late in the evening.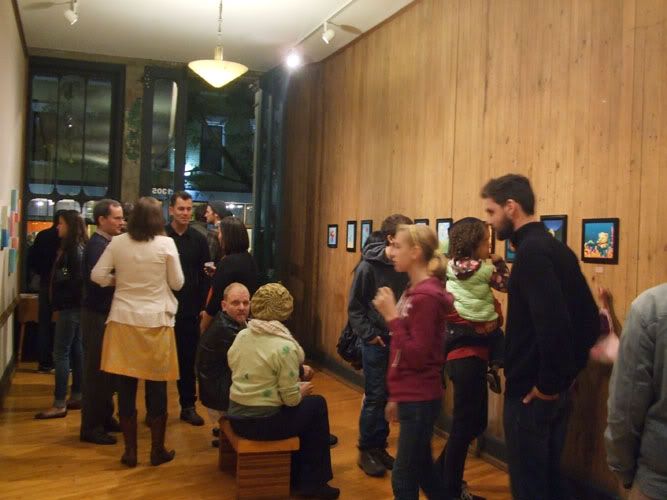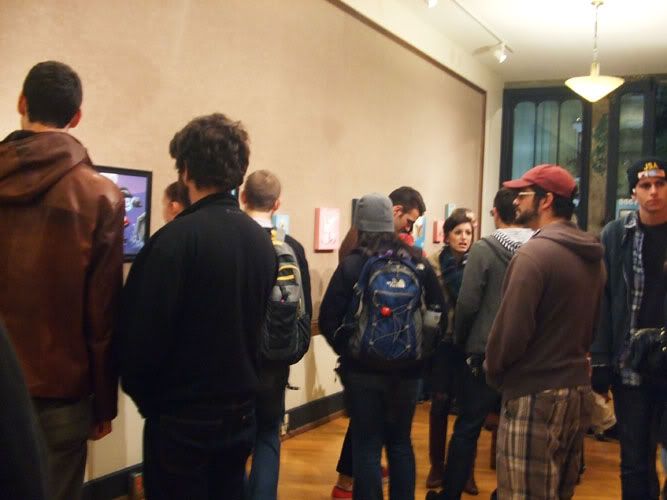 i only got one picture of myself, and of course it was blurry. That's usually how it goes. i thought i'd share it anyway, because i like the composition, and i like the moment that it captures. Thanks to Zach for trying to get a picture!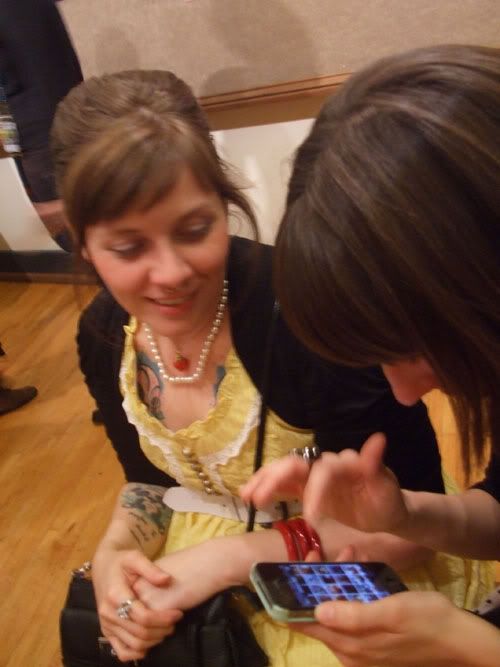 Yep, that's me (in the yellow dress) and my good friend and sometimes roadie, Shannon. If you're wondering what we are doing, well, we're talking about cats, because that's what we do. Actually, we are talking about cats and she's showing me pictures of cats on her phone. Perfect.
i know not everyone was able to make down to the gallery for the opening. For those that wanted to make it, but couldn't, i thought i would post some of the images of the actual paintings on display. Now, i can't post them all because there are far too many, so i narrowed it down to just the newest pieces.
This one was the absolute last painting i did before dropping all the artwork off at the gallery. Even though it was the last piece finished, it is the sketch for this piece that gave me the idea for the title of the show.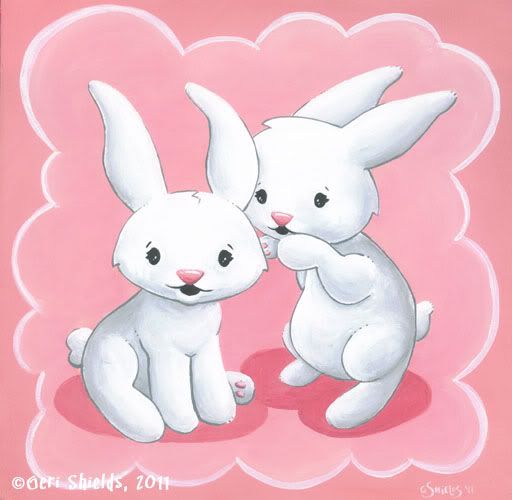 Can You Hear Them, acrylic on canvas, 12"x12"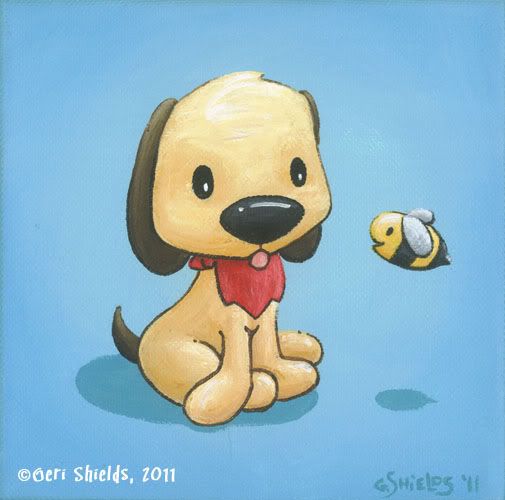 Are You Ready to Bumble?, acrylic on canvas, 6"x6"
i love this next one, mainly because mountain goats are pretty sweet, and also because the background is a little different than what i'm used to doing for backgrounds (when they are more than just a single color). It was a little bit of an experiment for me and i was pleased with the results. i will be honest, i was a little irritated by the painting most of the time i was working on it, but it all seemed to come together at the end when i added the accent lines to the background.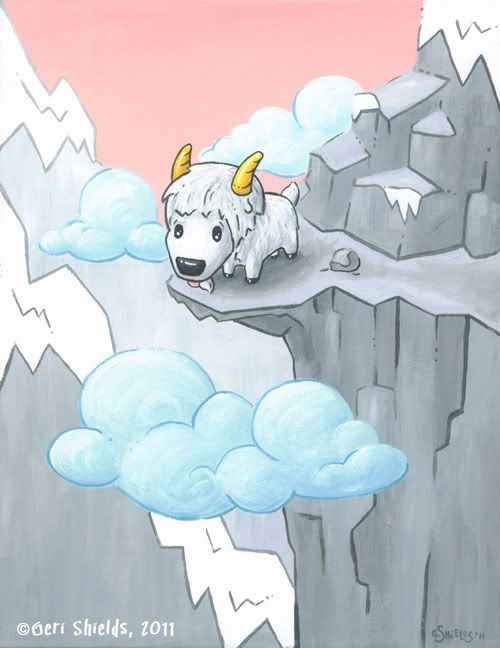 Rock Steady, acrylic on canvas, 11"x14"
Ok, so "Don't Stop" is a continuation of my flying cats series of paintings. It holds a special place in my heart. i think the whole cat with a balloon tied around it is kind of popular "thing" right now. i say this only because i ran across
this necklace
over on Modcloth.com and almost died (not literally). Anyway, i fell in love immediately, though i did not make the purchase and sadly it is no longer available. The reason i loved the necklace so much was because it reminded me of one of my favorite children's books, "The Little Kitten." It was about a little orange stripey cat that lived on a farm and kept getting lost in the tall grass. In order to remedy this problem, it's owner, a little girl, tied a balloon around its waist so she could know where it was at all times. HAS ANYONE ELSE READ THIS BOOK???????? If you haven't, and you love cats, you obviously need to. i absolutely loved it, and thinking about now makes me tear up and smile a little. i actually just did a quick search and found it on
amazon
. i might have to get it. i no longer have my original book that i adored so much. it was almost like an autobiography (again, this is stretching the truth). i grew up on my grandparent's farm, and they had several little orange stripey cats, though i never tied a balloon to any of them. They were apparently my grandmother's favorite kind of cat. i find that strange, and a little endearing now. i mean, if someone asks you what your favorite kind of cat is, the usual response is something like a Persian, Siamese, Norwegian Forest Cat (or is that last one just me?). i never expect to hear "a little orange stripey cat is my favorite kind of cat." It's an adorable answer from an adorable grandmother. Maybe i should have made the cat in my painting a little orange stripey cat. Oh well. There's always next time!
In addition to the above information, "Don't Stop" is also special to me because i painted the cat to resemble, somewhat, my new office mate. She's a little gray tabby that has taken up residence in a shed next to my office building. i've named her Marlo and she has become a great office companion, but i would love to find her a permanent and loving home. i'll have more on her later, so stay tuned. So, here's "Don't Stop," a painting about a certain cat's never ending search for love.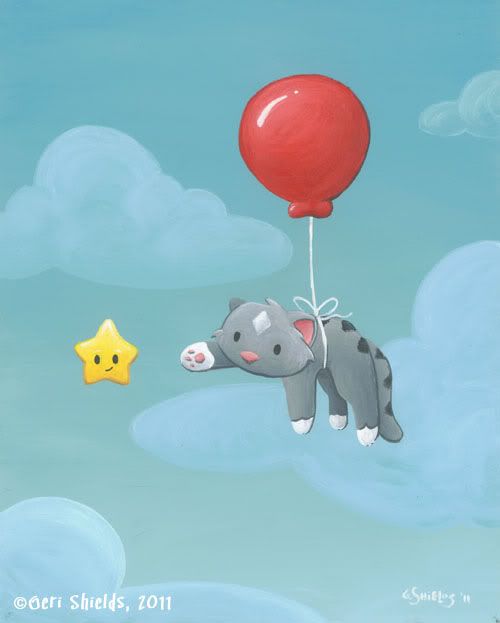 Don't Stop, acrylic on board, 8"x10"
Also in addition to the flying cats is "Let's Go." My favorite part of this painting is the grass. It reminds me of warm and windy summer days hanging out in the fields of the farm mentioned earlier. Although, i do have to say that the tall grass did make it hard to see those darn cow pies.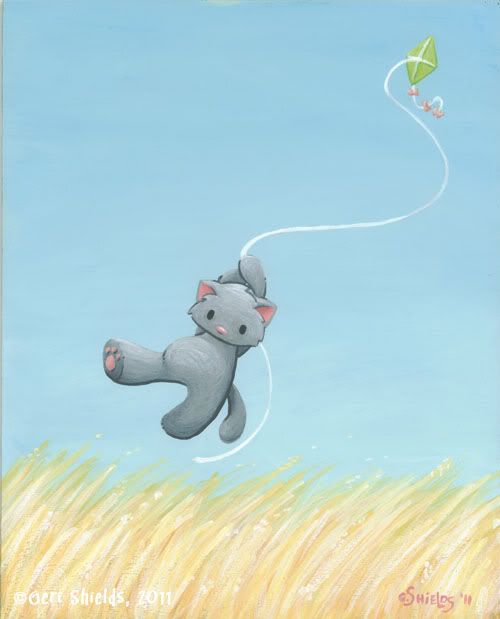 Let's Go, acrylic on board, 8"x10"
i posted "in progress" photos of this bat painting earlier. i couldn't be more happy with the finished product. i still think this is my favorite of the new pieces.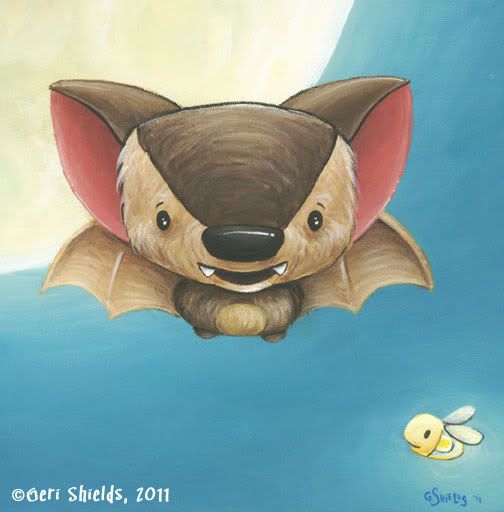 Night, acrylic on canvas, 12"x12"
And, finally...the largest of the new paintings! It, by far, took the most time to paint. i was in love with the way the owl turned out, but the part that still makes me more proud than anything is the snake's rattle. Probably one of the smallest elements of the painting, but it is still the area that i spend most time looking at.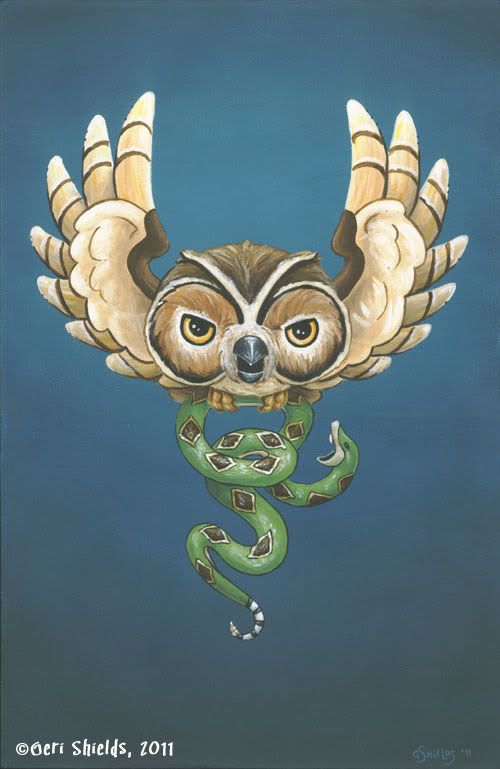 Vs., acrylic on canvas, 13"x20"
Again, i wanted to thank everyone that was able to make it out to the opening. It was an amazing turn out! And i wanted to give a big thanks to Lily of 1305 Gallery for giving me this amazing opportunity. It couldn't have been better!
The entire show will be on display at
1305 Gallery
in Cincinnati til October 22, 2011. If you have the time and want to stop in before the show closes, the gallery's hours are Thursday-Sunday 12-4pm. For prices and inquiries on the paintings shown above, and all paintings in the show, contact 1305 Gallery. You can find the contact info
here
.
Posted by

Geri Shields
at 6:03 PM
No comments:

Monday, October 3, 2011
And the winner is....Sherry Lykins! Congratulations Sherry! i'll be contacting you shortly to make the shipping arrangements for your new print!
Thank you to everyone that entered. i enjoyed seeing everyone's favorite scary movies. There were some classics listed and some that i haven't seen yet. My "to watch" list for this year just got a little longer.
This giveaway was fun, and i plan on doing more in the future, so keep your eyes peeled for the next one!
Also, if you didn't win but still wanted a print, they are available in my etsy store, or if you're local, just send me an email (gerileighshields@gmail.com) with your order.
And, if you were wondering how i chose the winner, i used the random number generator at
www.random.org
.
Thanks!
-G
Posted by

Geri Shields
at 6:38 AM
No comments: