It was brought to my attention a few weeks ago by a friend that some of my paintings were on display at
The BonBonerie
, a delightful bakery here in Cincinnati. I was curious to see which paintings were there so I stopped by on my way home yesterday. I had a feeling it was the paintings that involved baked goods, and I was right! I knew those two had sold during the "Little Conversations" show, but I didn't know where they ended up. I do have to say they are perfect fit in the bakery. I love that they are displayed on cake plates. ADORABLE! Needless to say, I was excited, and although the shop was crowded with hungry customers, I was able to snap a couple of pictures, with Zach's help.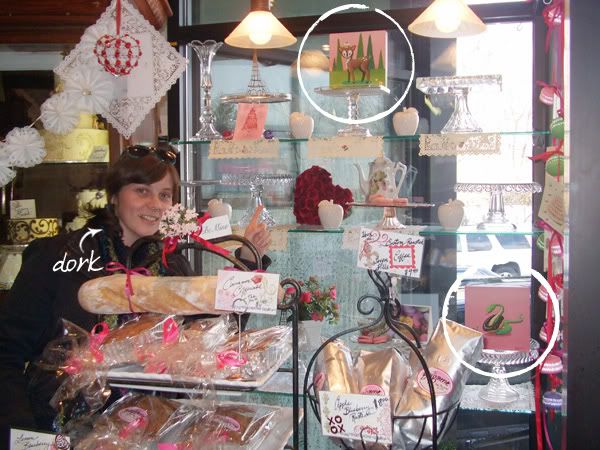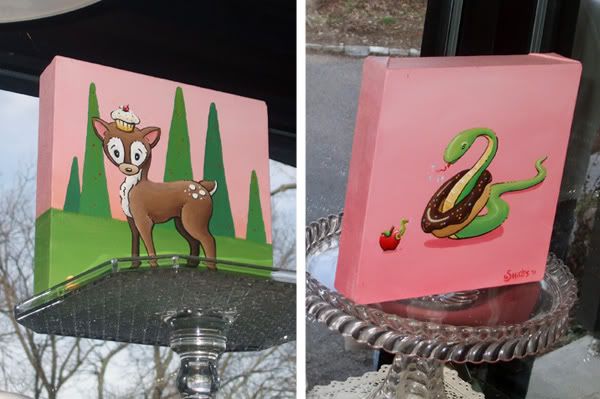 I absolutely love The Bonbonerie, and because I have a huge sweet tooth, I couldn't help but get something scrumptious to take home with me. I ended up getting an Opera Cream cupcake. I believe that the bakery is known for their
Opera Cream Torte
, or at least that's what I know them for, and I was thrilled to see that they had it in cupcake form. If you're not familiar with opera cream, it is a decadent white cream made with fresh cream, milk, and butter. I first encountered it while working at
Aglamesis Bros.
, which is known for their
opera cream candies
. Anyway, after dinner I treated myself to my Opera Cream cupcake. It was a little piece of heaven. The light cream offset the dark chocolate cake and ganache perfectly. Seriously. The last bite was probably the best thing I've eaten in a long time. It was a nice way to end the evening. And, as you can see, Mr. F was jealous.