I've decided to add a new weekly post to the blog to help keep myself in the habit of posting. During the holidays I get a bit distracted and neglectful of both my creativity and this site. The new feature will hopefully remedy this. I can't promise that I won't miss a day now and then. I mean, I am starting the first post a day late, but I will try my best to keep it up. I'm currently feeling under the weather and I did not manage to get the post completed yesterday, so I'm finishing now. Better late than never. Next week I will hopefully be feeling better and back on track.
Anyway, every Friday I plan on posting a painting, digital illustration, photo or quick doodle that in some way involves a cat. This week I have a little drawing featuring my cat Mr. E to share with you. I had to pick up his food after work on Friday. Instead of just writing a note to help me remember this errand, I drew a picture of Mr. E with the "death stare" on his face. I sat the drawing on my desk so he could glare at me all day. The trick worked like a charm and I promptly picked up his food on the way home.
Mr. E's death stare:
About an hour before feeding time Mr. E situates himself directly in front of me, no matter where I am in the house, and just stares at me. Seriously. He doesn't blink. Try winding down after a day at work with a giant black cat staring at you with it's pupils fully dilated, not moving, not blinking, occasionally howling at you. It's a little unsettling, but I love the big, little guy! He doesn't stop until I move toward the kitchen and open the cabinet containing his beloved food.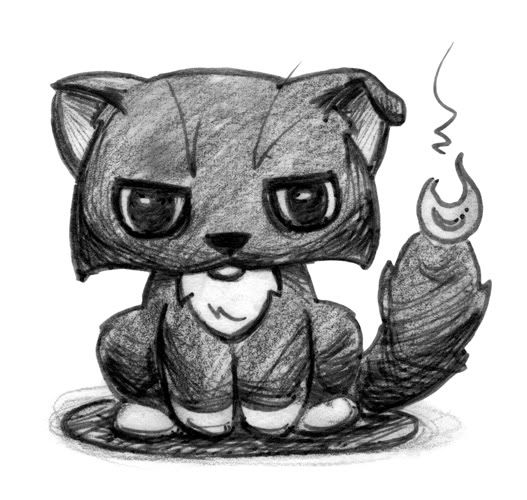 I guess I should explain the flame on his tail. In the past month he has managed to catch the tip of his tail on fire, twice. He's fine. His tail is never aflame for more than a second or two and his fur is so long that he doesn't even notice that it's on fire. His only injury is a small clump of slightly singed fur. He is apparently unaware of the activity of his tail. I am now extremely careful of where I place candles, and very aware of the whereabouts of Mr. E while they are lit.
Hope you enjoyed the first installment of Feline Friday, even if it is on the wrong day. Remember to check back next week!