For those of you that don't know, I currently have a furry office companion named Marlo. I briefly mentioned her in
this
post while discussing the painting "Don't Stop." She's a little gray stripey stray cat that lives in a makeshift "cat house" on the side of the office building where I work. At the moment I cannot remember when she first showed up, but I do remember it snowing. Since it is currently snowing outside, I'd say we've been acquainted for a year, or a little less. It was awkward at first. She was living under a shed at the back of the parking lot, but with my persistence and attention, she eventually warmed up to me and we have since become good friends. To my surprise, my boss gave the ok to let her come inside. That too was a bit of a struggle at first. Marlo was hesitant, but now is a welcomed guest in my office each day that I am here. I do have to put her back outside at the end of the day, but she does get to warm up inside and eat a good meal during the day. I, with the help of some wonderful ladies, have put together a little insulated house on the side of the building. I think she is comfortable there. At least I know she has a somewhat safe place to stay at night.
Since coming into my life, I have become very close with Marlo and would love to make her a new addition to my household, but alas, I still rent and am at the cat limit for the apartment. Although I adore having her at my desk during the week, I have been trying endlessly to find her a permanent and loving home. I do have one lead right now. I'm keeping my fingers crossed!
The other day I did purchase a little bed for Marlo. I felt bad that she didn't have any real comfy place to sleep on my desk. I brought it to work yesterday. After her breakfast, Marlo went to investigate the new bed. She settled right in! So, for this Feline Friday, I'm finally introducing you to my wonderful office mate, Marlo, testing out her new bed!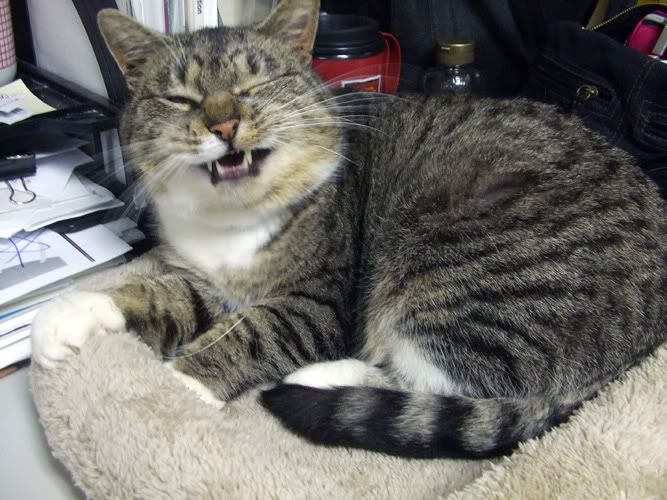 Marlo, mid yawn.