Let me start by saying "i'm in love, i'm in love, i'm in love and i don't care who knows it!" As i mentioned earlier, Zach and i recently took a trip to Norway. i didn't think it was possible to fall head over heels for a place, but it happened. The trip was more than i ever expected and Norway is by far the most intriguing place i've ever been. It was love at first sight.
After sifting through the hundreds of photos we took, i have whittled them down to my favorite snapshots so i can share part of the experience with you. Be warned, though, it is still a lot of photos.
We landed at the Oslo airport and from there took a train into the city. While watching the countryside roll by, i realized what was so striking about our first moments in this country. It was quiet. The airport, train platform, and train car were all quiet. There were peple around, but there was very little background noise. It was strange, but calming. i liked it.
One of the first things i saw when departing the train station was this GIANT tiger. You have no idea how happy this made me. There were hoards of children climbing all over it, sitting on it's tail and posing for pictures. i had to wait a looong time, but i was finally able to get a photo with it.
We kept pretty busy in Oslo. There were so many things we wanted to see. On the top of the list was the Viking Ship Museum. We woke up bright and early to catch the boat over to the museum. It was a good thing we did. It was an intimate museum, and there was no crowd when we first entered. This gave us space to wander and time to truly appreciate the ships. They were delicately lit, and created striking shadows on the stark white walls. By the time we left, all the empty spaces were filled with eager tourists and the atmosphere felt frantic. i guess we had good timing.
Stave church at the Norwegian Folk Museum.
Though we saw many great things, my favorite place in Oslo ended up being the Vigeland sculpture garden at Frogner Park. I was astonished by the amount of sculptures it had. It made me feel a little bit lazy, artistically.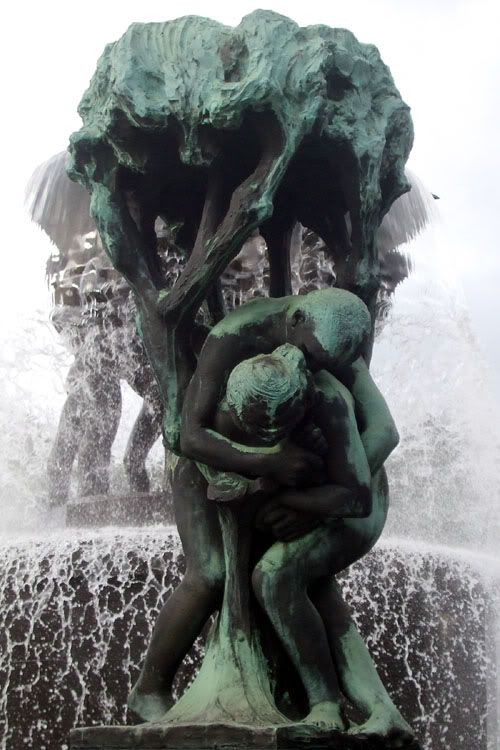 This was my favorite sculpture around the fountain.
From Oslo we took a series of trains and a boat to the town of Balestrand. It made for another long day of travel, but the scenery was well worth it.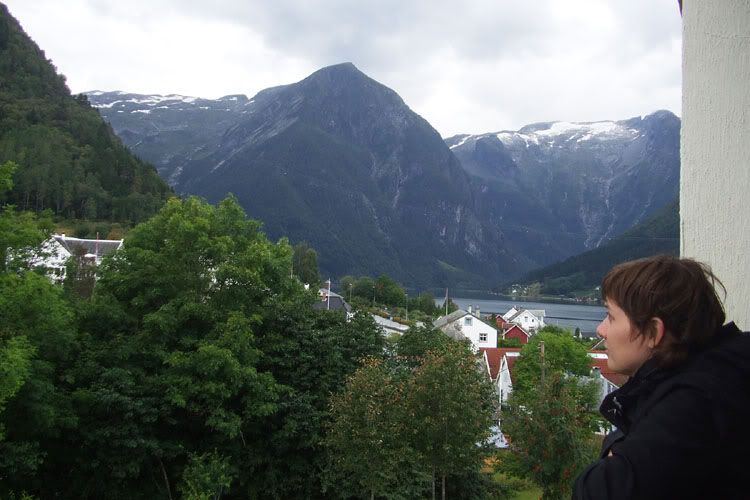 The view from our room in Balestrand.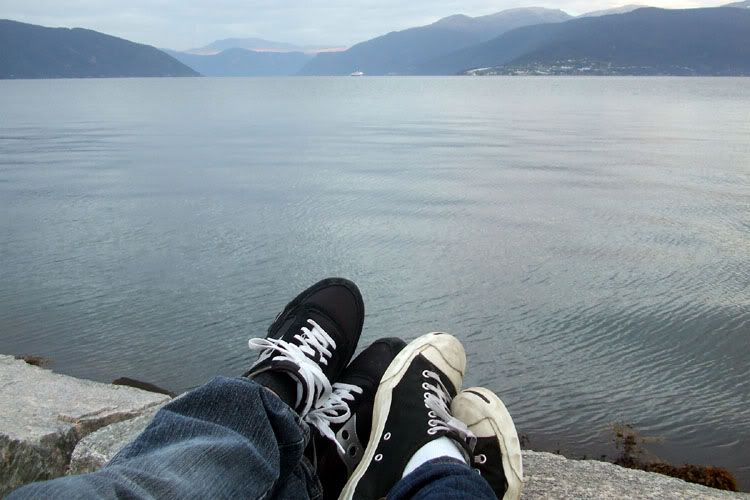 The waterfront, Balestrand.
The first night in Balestrand we took a stroll around town. This is when we made friends with one of the locals. It was a cat, of course. He was hanging out around the viking burial mounds (yeah, really). We played with him for a while and took some pictures. i think he enjoyed our company almost as much as we enjoyed his.
While in Balestrand, we took a day trip to see the glaciers. This was one of the things we were most eager to see. The ferry weaved through the fjords and low lying clouds to a small town at the foot of the glaciers. We were taken to two arms of the glacier formation. It was epic. The second of the arms came with a glacial lake. There were pieces of ice floating in the water. There were active farms surrounding the glacier sites. You could hear the sounds of bells from cows grazing in the distance.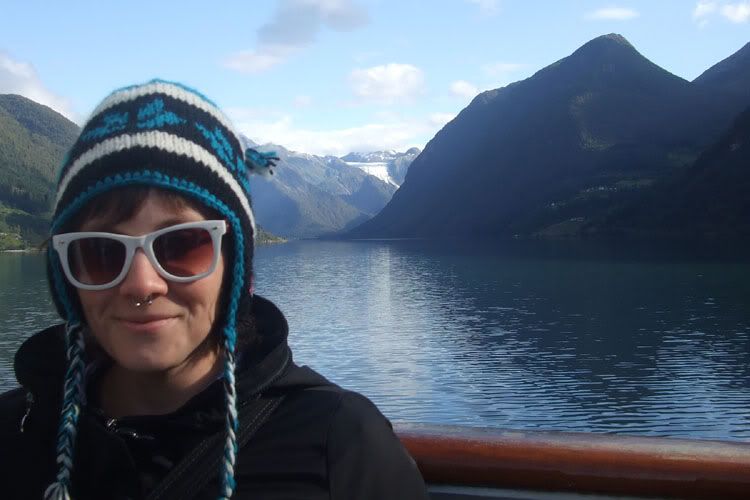 On the ferry to visit the glaciers.
It doesn't look like it in this picture, but this piece of the glacier is massive.
The two parts of the glacier in this picture were connected about 30 years ago.
The glaciers were breathtaking, but i do have to say my favorite part of the entire trip was the day in Balestrand that we didn't have anything planned. We decided to take a short ferry ride to the town of Vik. The main reason was to see the Hopperstad stave church, but we discovered that there was a stone church from roughly the same time period also located in the village.
i love the dragon heads!
We spent a few hours visiting the churches and walking down the winding roads and fields of the farming town. i believe this is where my heart officially melted. i have never seen a place more idyllically set and could not have asked for more perfect weather. It was such a tranquil place. The clouds were like cotton floating in the bluest sky, the grass was the richest green and the air was crisp and invirgorating. It was like visiting a postcard.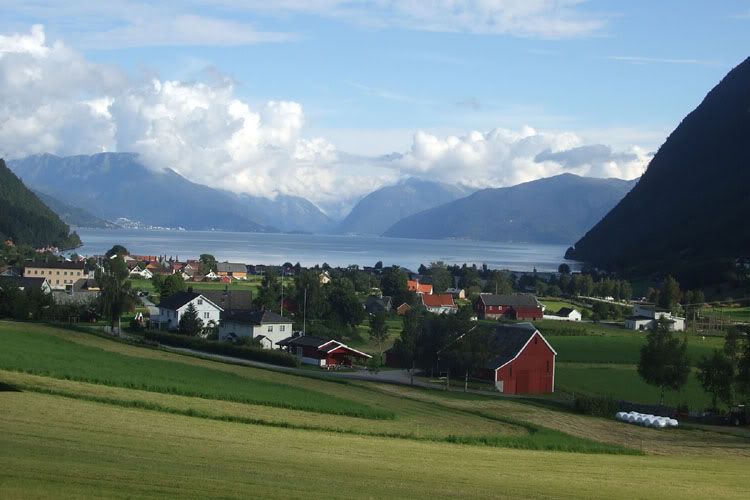 Vik.
Upon returning to Balestrand, we had a picnic next to the water and then headed into the forest for a hike. It was an unexpected treasure. Most everything was covered in moss making the entire forest feel ancient and untouched.
During the hike, we came across a small waterfall. It seemed like a splendid place to take a break.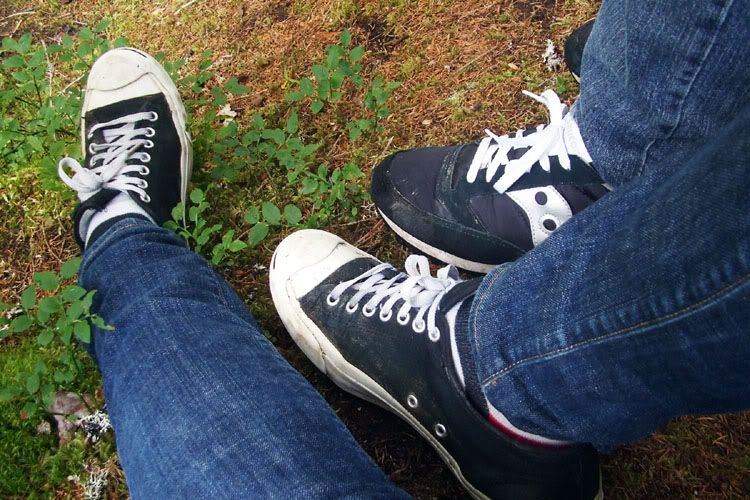 i know. i need to invest in some hiking shoes.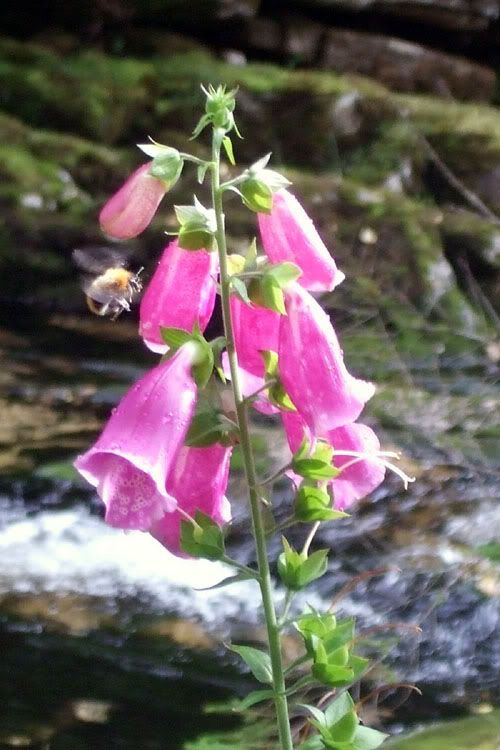 i can't believe my little camera took this!
This is one of the bridges we crossed. It was a little scary, but it looks awesome.
Towards the end of the hike it began to rain. Not a hard rain, just a misting. Enough to cool things off a bit. i had my handy dandy raincoat with me, so all was good. Because of the rain, we did get to see a rainbow. A freaking rainbow in such a wondrous setting! Who wouldn't love that? It was nothing short of magic. It was the best possible ending to the most perfect day ever. From now on, if i need cheering up, i will think of this day.
Bergen was our final destination. It took four long hours on a boat to get there from Balestrand. By the time we arrived, we were completely exhausted. However, we did muster up the energy to have a grand time. This is where i had the BEST salmon i've ever eaten. i would go back just so i could order it again. Superb. This is also where we did most of our shopping, and where Zach made a complete mess of a tasty ice cream cone. Sadly, i just have the before photo.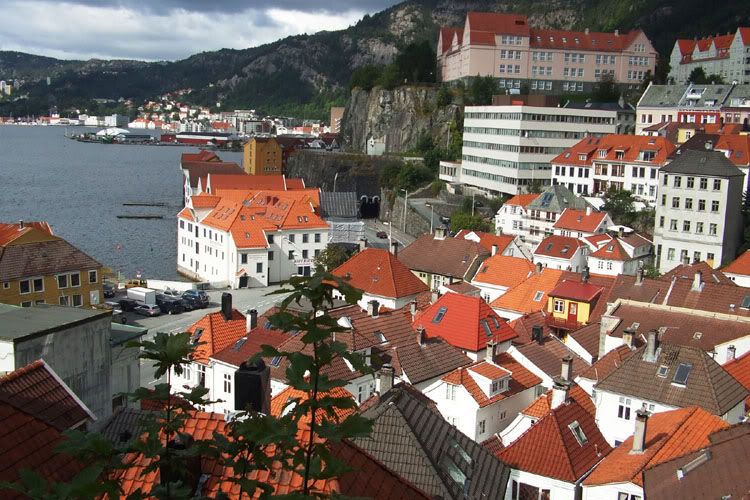 Bergen.
The trip to Norway was incredible. It almost seemed too good to be true. There isn't anything that i would change and i can't wait to go back. For now i'll just have to settle for the memories and photos. I will return, one day.