If it has been a bit on the quiet side around here, it's because i've been on the go, A LOT. It's all been good, but i guess it is time to play a little catch up.
i took a mini vacation a few weeks ago with some pretty rad people. i absolutely love the little town we stayed in. It's ridiculously cute and is close to the beach. It was my second year staying there, and hopefully there will be plenty more summer days spent there in the years to come.
Zach and i beachin' it up!
Check out my old lady hat. Isn't it awesome!
When we weren't at the beach, we were walking around the historic district of town, eating some amazing food and gawking at the palmetto bugs. We did also find some time to tour the battleship housed on the river that runs through the town. It was pretty sweet. My favorite parts were the kitchen area and the caged area in which they kept the ice cream, go figure. Going to see the ship reminded me of being on vacation with my parents, specifically my dad. If it were up to him, every vacation would have included a stop at some kind of U.S. military ship, anything relating to the Civil War or a cemetery. My mom voted for a beach every time. Basically, the entire vacation reminded me of the good times i had while on vacation with my parents. It made me miss them more than usual.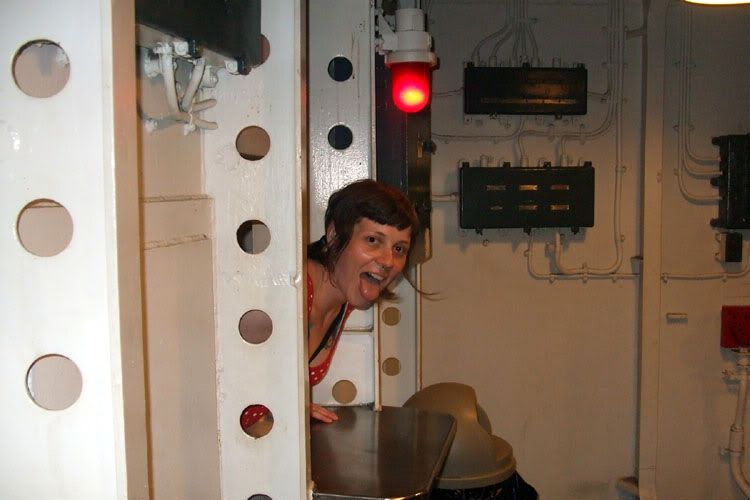 inside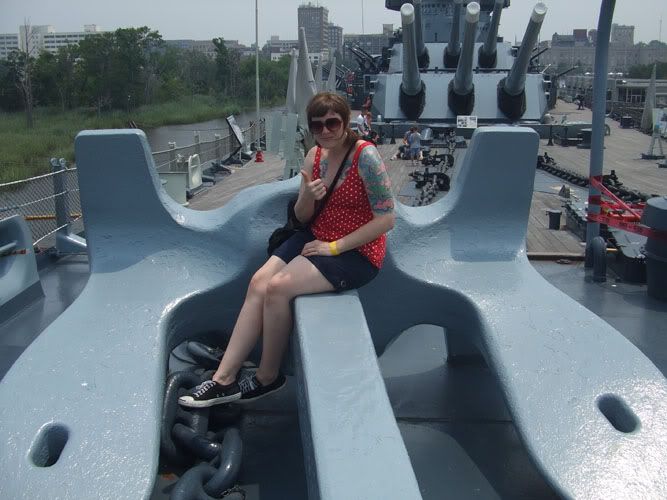 the anchor
Over the last month, there have been a lot of birthdays among my group of friends. Though i do love them all and hope they each had a wonderful birthday, the most important birthday for me was Zach's! We had a quiet night at home. Well, it was quiet for me. i spent most of my time in the kitchen baking his favorite pie. He had rousing evening playing Call of Duty, of course.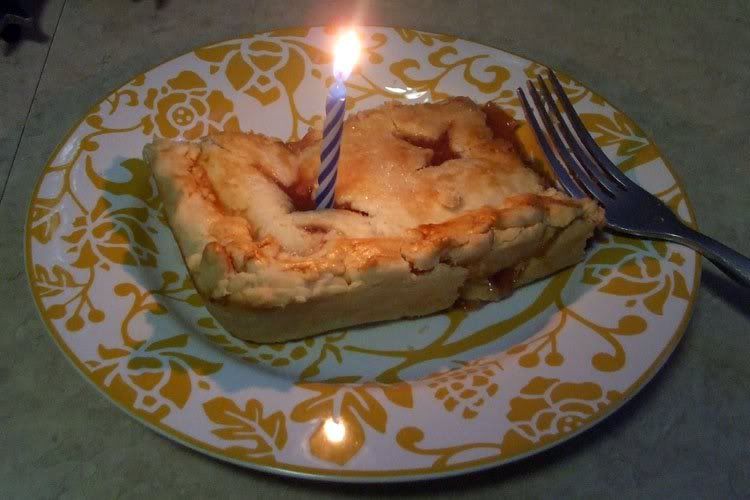 YES! It's a birthday PIE!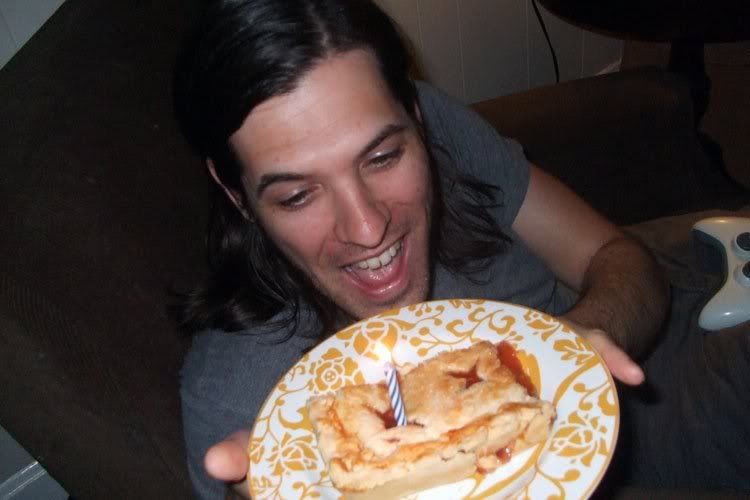 do you see the xbox controller in his lap?
The pie was super yummy, as usual.
After vacation and birthday fun, it was back to work. Zach and i had a booth at Roebling Fest in Covington, KY. It is the first real art/craft fair i've done outside my involvement with The Flying Cat. i do have to say it was very encouraging! i got a lot of good feedback and interest from the shoppers. i did pretty well in the sales department as well. To be honest, i was a bit shocked by that. Sooooo, since things went so well at Roebling Fest, i am absolutely going to do more of these events! Don't worry, i'll keep you posted on when and where i'll be setting up shop.
Here we are at our humble little table.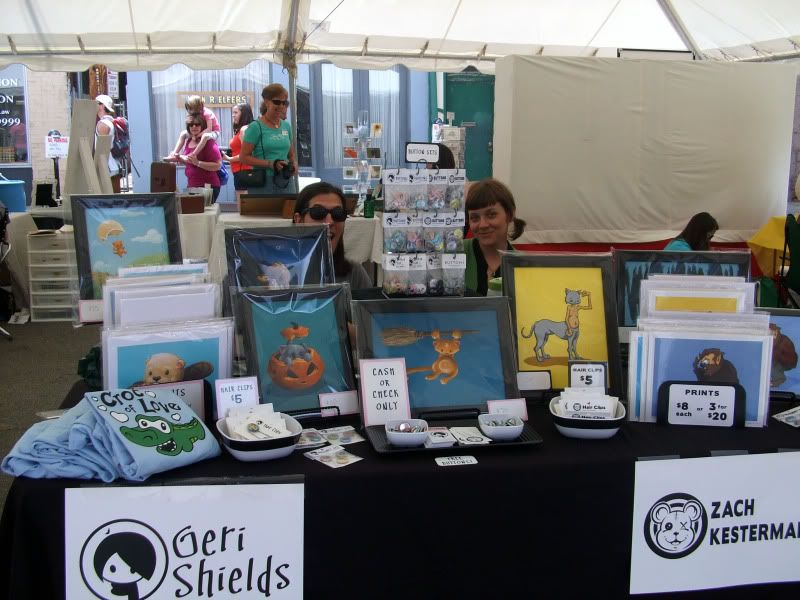 My "roadie," Shannon, tagged along to lend a hand. You can see her head popping up behind some of Zach's paintings in this picture.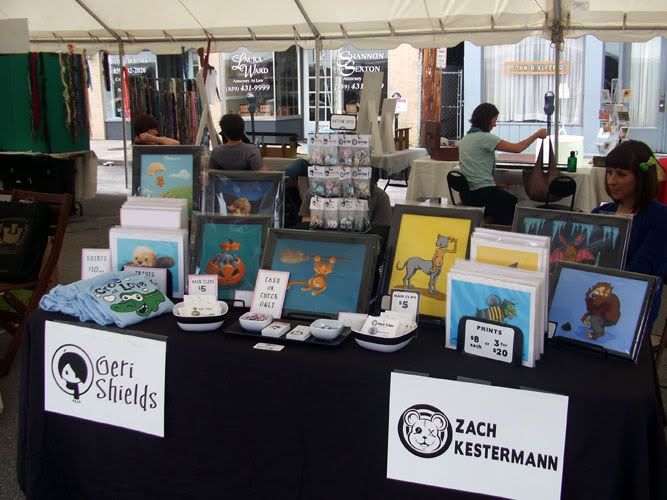 Shannon kept the table looking nice and tidy, and provided some much needed entertainment throughout the long day. Here she is modeling a custom made bow featuring one of my characters. It's totally adorable, and so is she! Thanks for helping, Shannon!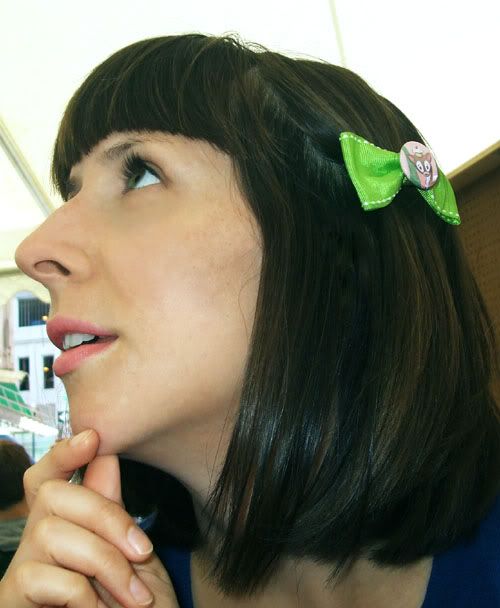 i've been busy, busy, busy but have enjoyed every minute. i think the next couple of months are going to be pretty busy as well, and i can't wait! Thanks for stopping by, and check back soon!
-G